CANARD
not just a family, a history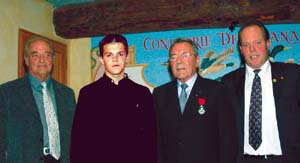 Armand, Cyril, Gérard et Thierry
At the beginning of 17th century Jean Canard and his 4 boys were bargees owning 40 wine transport barges. This activity died out at the beginning of 20th century with the growth of rail transport. But they had already started their vinegrowing and winemaking activity. From 17th century, in around 1684, they worked vines on the communes of Saint-Étienne-des-Oullières, Quincié-en-Beaujolais and Saint-Étienne-la-Varenne. Thierry CANARD, to owner today, is the 11th generation of the family working on the estate. He has been working at the Château since 1978 and his son, Cyril CANARD is the 12th generation. Armand CANARD, Thierry's father, started working on the estate in 1957 and still takes part in tending the vines and working in the cellar. Gérard CANARD, Armand's brother, is an ambassador for our region and has been working tirelessly to promote Beaujolais wines in France and throughout the world since 1960. History In 1996 we created two brands for our Château de Blaceret Roy wines :

"Domaine du Père Chavel", Philippe CHAVEL was my great-great grandfather. He was the château winemaker from 1895 to 1925 and we wanted to pay him tribute through this brand name.

"Terroirs et Tradition, la passion du vigneron", is an exclusive brand name for the Château wines as well as for those that we carefully select from the best slopes.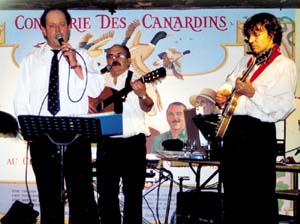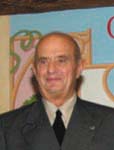 With the aim of promoting the Château wines, Thierry Canard created the "Confrérie des Canardins" with Paul Bocuse as sponsor in 2000.
At the eastern end of the commune of Saint-Étienne-des-Oullières, Château de Blaceret-Roy is a family-owned estate whose oldest buildings date from 1684. Set around the foot of Mont Brouilly, the estate's vines are an average of 80 years old and spread over 30 hectares.
You are sure to get a warm welcome at the Espace Paradis in the heart of the Beaujolais region with its magnificent receptions rooms, shady park and calm setting in the vines. Château de Blaceret-Roy is an enchanting venue or all your festive events.
Espace Paradis
L'Espace Paradis vous accueille en plein coeur du Beaujolais avec ses magnifiques salles de réception, son parc arboré, la sérénité au milieu des vignes. Le Château de Blaceret-Roy vous enchantera pour tous vos événements festifs.
Wine Tradition
The great diversity of the Terroirs on the Château de Blaceret Roy estate allows us to produce a full range of wines with different personalities using two grape varieties, Gamay and Chardonnay. Each year confers its own originality and characteristics on the wine, this, combined with our know-how has made the reputation of our Château's wines which are vinified using grapes from century-old vines. They are all made and bottled by Thierry Canard in the Château cellars.